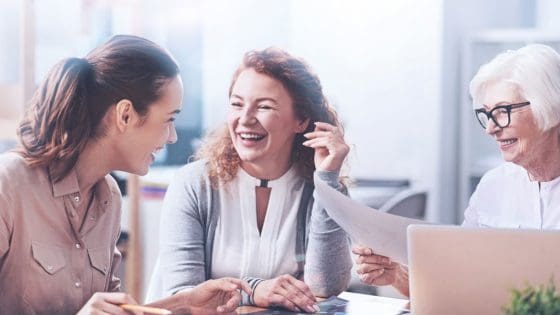 Have you ever "surveyed" your staff members? It can be enlightening to interview them, even if you think you know them well. It goes without saying that I believe my team is awesome, because at the core, they love helping people and solving problems. I put a lot of consideration and thought into who I choose to bring aboard, not just because it is my reputation and my company's reputation at stake, but more importantly, I try to hire people whose morals and goals are in alignment with my own, who view satisfying our customers as paramount. The obvious things I look for when hiring are reliability, integrity and efficiency. My team is diverse, with varying demographics. Some are married, some are single, some are older and some are younger, and they live all over the Raleigh – Durham – Chapel Hill Triangle and its suburbs.
Recently I asked my team to answer some questions about my company and our errand service industry. Their answers were articulate and inspiring. While protecting their privacy and anonymity, I will reveal a few of their responses, below. Then I will outline the 3 top things I learned from surveying them and why it has made me appreciate and value them more than ever.
-What are your favorite and what are your least favorite client tasks that you have been asked to do since working for Consider It Done!
My favorite errands to run are:
* Running errands. Grocery shopping, cat-sitting, taking a vehicle to be serviced, organizing closets, taking a space and making it more functional.
* Organizing, sorting and decluttering. I loved organizing a toy room for a client.
* I love to cook so I enjoy meal prepping, it gives me a chance to make some new recipes. I love running errands.
* I love having a whole lot of tasks to cross off my list.
Now what errands are your clients most grateful for:
*Cleaning the cat litter box.
*Making beds.
*Getting up super early to deliver breakfast to a client. *Folding laundry.
What would you use a personal concierge to do for you, if you had one of your own?
*Meal planning and meal prep, laundry, grocery shopping. * If I had a personal concierge for myself I would definitely want grocery shopping and meals! I would want to find someone who likes to cook and can cook healthy meals for those of us who are having to change our eating habits.
*Laundry, especially folding it all.
What made you decide to become a personal concierge for Consider It Done!
*I love the variety of task-types and the flexibility. It is great to be able to have a reasonable measure of control over the work schedule.
*I love helping others making their lives become more organized.
*I've always loved organizing and have a passion to recognize others' needs and meet them however I can. When I was looking for a job, I literally had said to my husband, "If I could get paid money to organize, I would do that in a heartbeat right now." And then I saw the job posting. I've never been more thrilled! I have loved all the people I've been able to meet and serve through this.
*I became a personal concierge because it seemed like a great opportunity to help people.
* I enjoy the satisfaction of accomplishing a long to do List. I also love making arrangements for service and deliveries.
*I value the professionalism of Sherri – and I love helping people! Being a personal concierge allows me to develop a relationship with the client – Sherri treats her staff as family and is involved with the whole process to make sure that the client is satisfied and happy!
What type of person do you think is best suited to becoming a personal concierge?
*Friendly, professional, dependable, team player, detail-oriented, good communicator.
*The type of person best suited for becoming a personal concierge would be someone who is caring, flexible with their schedule, and who enjoys working with clients one on one.
*Someone that loves helping others and has a passion for efficiency!
*To be a great personal concierge I think you have to relate to the client's situation. You want to treat someone's home as you would your own, making sure it's clean and comfortable. You want to make meals that are delicious and healthy. You want to be available and organized.
*I think if an individual has the basic drive to recognize what others need and has a desire to serve, they can be successful in this work.
*It takes someone with patience, and who genuinely wants to help others. You simply cannot do this job well without both qualities.
*Someone who can multi-task, listen, who can work independently – someone who knows that you need to go above and beyond for the client – someone who likes to do a variety of tasks and anyone who is willing to do what it takes to learn something they may not know! – What would you do differently if Consider It Done! was your company? (How can we improve?)
*I honestly cannot think of anything Consider It Done! could do better. The things that I have seen and am currently seeing being done continue to inspire my respect. *I wouldn't change anything, I feel as a company we satisfy the different needs of our clients.
Who is the ideal client of our concierge services?
*One who clearly communicates their needs.
* Busy people, or elderly/disabled.
*An ideal client would be someone who enjoys our services and appreciate all the work we do.
*Busy professional women with small children.
*Someone who feels overwhelmed by their to do list.
*Busy business owners or executives…for themselves and their families, possibly including senior household members.
*The ideal client is the overworked family that needs a little fairy dust!
The three top things I learned from their responses and why I am blessed to have them:
1. My team truly want the clients to have an excellent experience while using our personal assistance services. They enjoy what they do because they see firsthand the difference they make in relieving our clients' stress. They listen to and act upon feedback from me and from the clients. They are super flexible and they can take whatever is thrown their way. They seem to like the variety of tasks.
2. They view our company as far more than just a local "errand service." They get that it takes hard work to provide excellent customer service to our clients. They continuously strive to improve and they are willing to communicate how we can improve things. They are solution oriented and proactive. Their positive attitude inspires me!
3. They really do have my back! They genuinely care about Consider It Done! and they want to see us succeed as a company. I think they truly understand our mission and our core values.
My takeaway is that it is essential that I continue to be an approachable leader, to listen to and address any concerns, to compensate them with a living wage and to show them sincere appreciation, because without them I am nothing!
Do you need some of these problems solved?
Contact us by calling 919-697-8874, no matter where you are in Raleigh, Durham or Chapel Hill area, you will have a great teammate assigned to solve your errand problems.