Consider It Done! Personal Concierge Service is celebrating 4 years of service in the Raleigh area!
4 things we are super grateful for:
Our amazing team- we couldn't do it without them!
Our awesome clients and the wonderful professionals and families we've met along the way
Our ability to provide a meaningful service to time starved professionals
Getting to live and work in the beautiful Triangle area
4 reasons to use...
our personal concierge services:
You never seem to have free time, me time or family time
Your to do list never gets completed and it's stressing you out!

You're tired of spending nights and weekends handling mundane, endless chores

You  long for work/ life balance
4 ways to use...
our personal concierge services:
Having ALL of the laundry washed, dried, folded and put away, dinner started and the entire house picked up and tidy
Having the entire house unpacked and beautifully organized in one day when you relocate
Having store returns made, errands & grocery shopping completed efficiently
Getting to live and work in the beautiful Triangle area
4 ways you'll feel...
using our personal concierge services:
Relieved that your to do list is handled efficiently
Grateful that you have found a company that genuinely cares about your satisfaction
(Check out our 150+ five star Google reviews!)
Happy to be able to focus on family fun, self care and career
Motivated to keep your home and life organized
4 reasons to...
contact us to get on our calendar:
Celebrate with us! Take advantage of our 4 for $40 discount
Between now and April 30, 2023 only you can purchase 4 hours of our service for $40 x 4 ($160), a $198 value.
The four 4 for $40 Terms & Conditions:
The 4 for $40 promotion must be prepaid in full by 4/30/23 and used in full by 12/31/23
All 4 hours must be used in one session
You must contact us at (919) 697-8874 and ask for the 4 for $40 discount
There is a limit of one 4 for $40 package per household for existing clients. New clients may purchase two 4 for $40 packages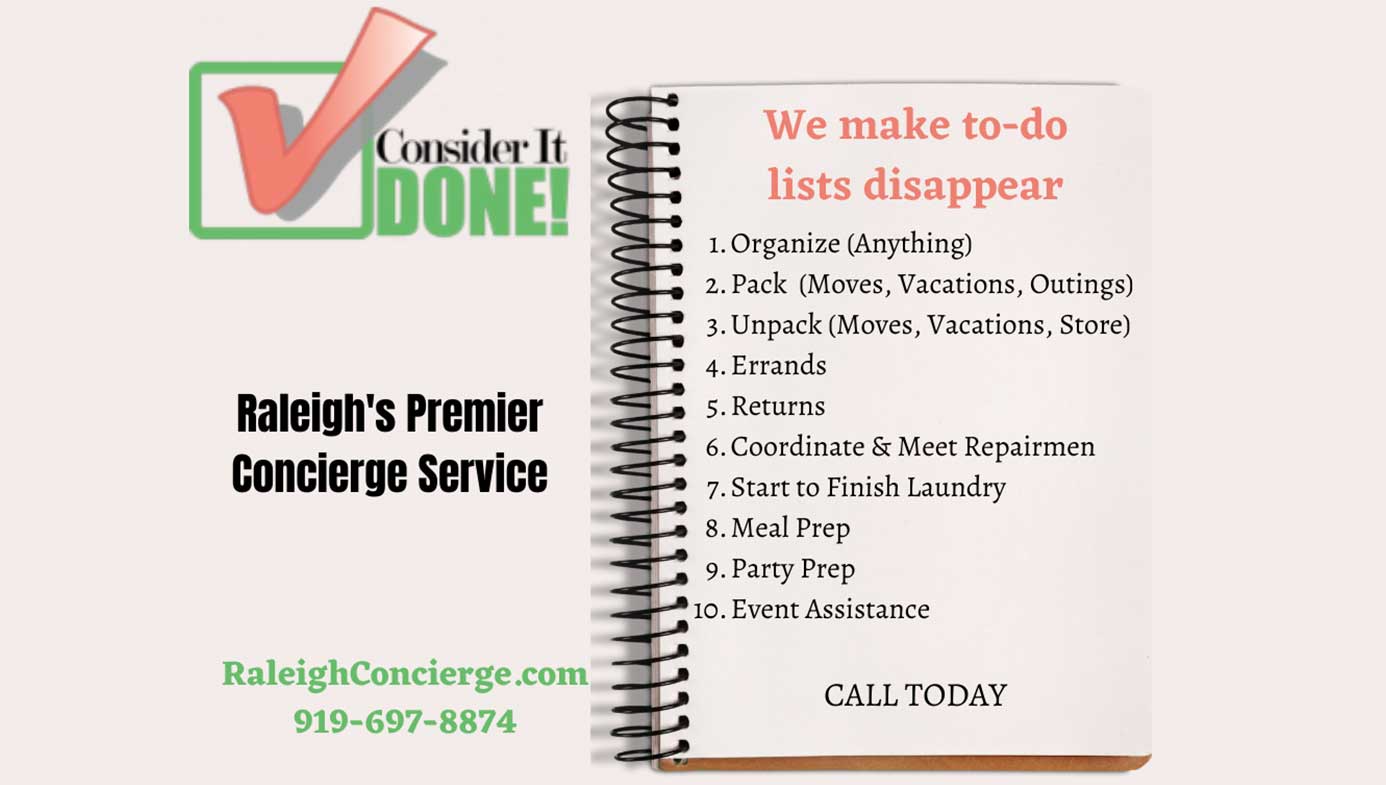 Be sure to grab your spot on our calendar. On behalf of our entire team we sincerely thank you for the last 4 years and we look forward to serving you for many more! Hurry! This offer is available only until April 30, 2023.
Kind Regards,
Sherri Durbin, Owner & Founder
Consider It Done! Concierge Service