What's The Difference Between A Personal Concierge & a Nanny?
We all know we need someone reliable at home to hold down the fort while we work. And while having a great nanny to pick the kids up from school, help them with homework, give them a bath or take them to practice is essential, your personal concierge takes care of tasks that go beyond even a super nanny's job description.
We've been asked "Why do I need a personal concierge if I already have a nanny?"
Nannies definitely fill a crucial role, but their duties come with certain limitations, mainly the tasks that involve running your home. The following can help you determine how much value you'll get from having a personal concierge vs. just employing a nanny.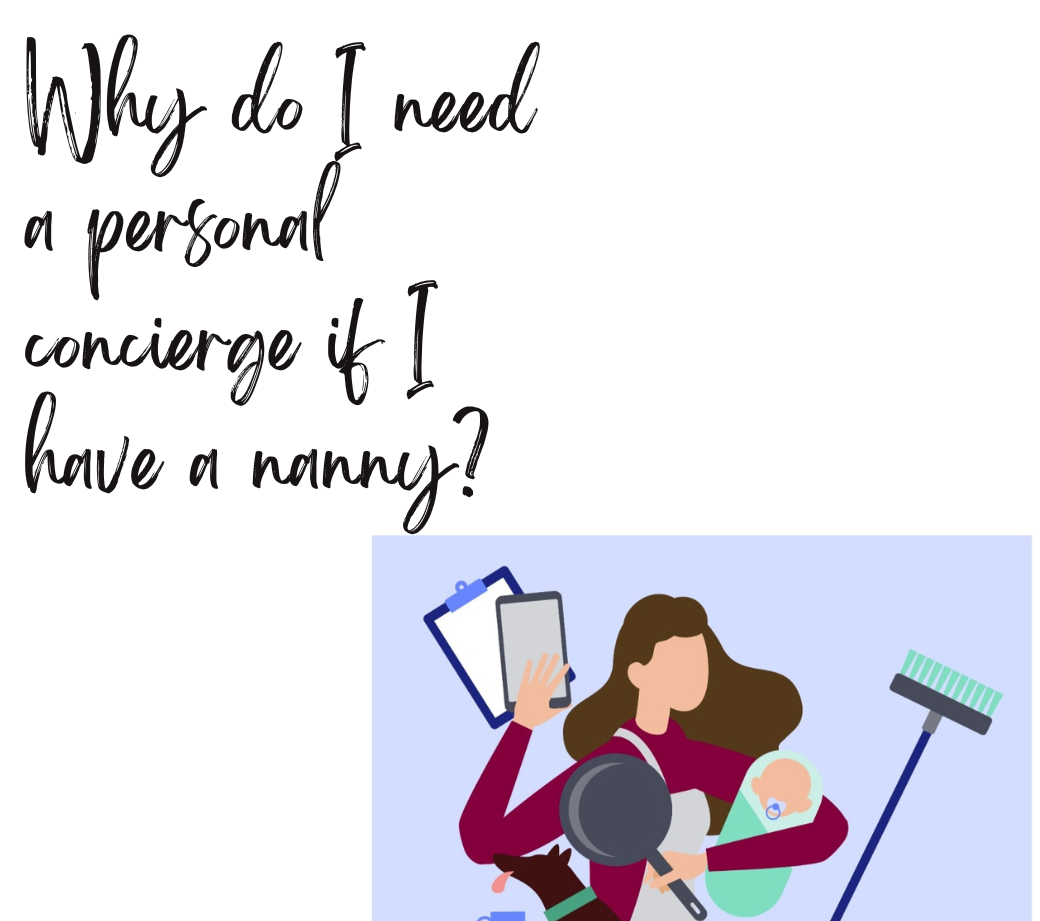 1. Nannies Handle the Kids, A Concierge Handles All The Rest
When the family needs someone to do more than provide child care, your dedicated concierge has the ability to get things done. Your nanny should be solely focused on the care of the children.
But when it comes to keeping the fridge stocked, the pantry organized, getting ALL of the laundry done properly, picking up the dry cleaning, organizing your closets, dropping off donations, taking the dog to the vet, starting dinner and doing Amazon returns, doesn't this sound like too much for one person? If your nanny's focus is on these tasks instead of the children, that distraction can cause your CHILDREN to suffer.
That's why your personal concierge is just a text or phone call away and worth your investment.
2. A Personal Concierge Keeps All Things Home Things Running Smoothly
Your concierge will keep your house organized by booking cleaning services, scheduling and supervising household contractors, landscapers and more.
That disaster of a playroom or garage? Your concierge knows how to organize them beautifully.
UNEXPECTED out of town company coming? Your concierge will get the guest room ready with fresh sheets, flowers and a candle.
Did you forget all about buying an anniversary gift for your friend's party in 2 days? Your personal concierge will have it bought and wrapped in time.
Is your dog desperately in need of a grooming? Your personal concierge will not only book the appointment, but will take him and bring him back home.
You could (and should) never expect your nanny to handle all of those things.
While our personal concierge team isn't in the business of child care, we can undoubtedly manage everything else to make your life easier. In fact, if you're having trouble finding a nanny as well, we can put you in touch with one that best aligns with the needs of your child!