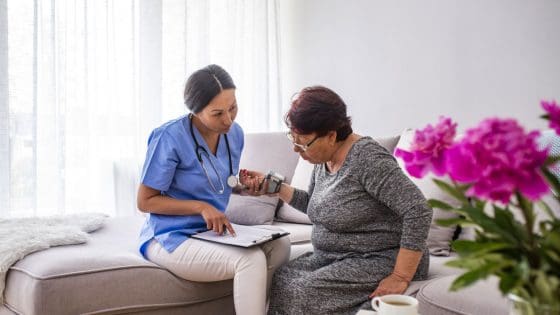 Relocating an aging parent to an assisted living facility, even when absolutely necessary, is never an easy move for the parents or their adult children. The parent(s) may resist leaving the home they've lived in for years to move into new, unfamiliar surroundings. Oftentimes the adult children are juggling full time careers and raising children, thus straining their already tight schedule. It can be stressful for all involved.
However, you can successfully and lovingly help your parent(s) to realize that by allowing others to take care of daunting everyday tasks like cleaning, cooking and laundry, they'll have the time and freedom to enjoy the companionship of others in their new community. In time, with your help, they will learn to adjust.
Here are 5 ways to ease the transition of an elderly parent to an assisted living community:
1. Be sure to get professional opinions:
Emotions can take over logic when considering a move from a home to an assisted living community. By allowing doctors, social workers, and elder law attorneys to provide unbiased assessments about what level of care your parent(s) actually need, you can then determine if it's in their best interest for them to remain in their current home or move into an assisted living community. The professionals can assist with finding a reputable facility within your budget. Always respect your parents' dignity and remember, they are experiencing the loss of their independence. Maintaining a positive attitude and having patience with them goes a long way.
2. Include your entire family:
Try to reach a decision with other family members, rather than making your parent(s) feel they are being forced into a move. The entire process goes more smoothly when everyone is on the same page and can come to a unanimous decision.
3. Deliberate downsizing:
It's virtually impossible to keep every treasured possession when moving your parent from an entire house into a small room or studio apartment. However, you can make them feel at home with some carefully chosen, meaningful items that will ease the transition.
4. Visit them often and stay involved in their care:
Once your parent has moved to the assisted living facility, help them to become adjusted to their new surroundings. You can eat meals with them and attend any events at the facility that welcome family members to attend. Even if you cannot visit in person, check in on them often to ensure their safety and well being.
5. Get help:
Contact Consider It Done for Assistance
If you need assistance with transitioning your parent from their home to an assisted living community, we will become your go to resource with the deliberate downsizing aspect of the move. We're experts at sorting out household items, managing paperwork filing & shredding, and helping purge and manage donations. We carefully pack everything in a structured way, labeling as we go and ensuring fragile breakables arrive intact. Upon arrival we unpack the boxes, placing items in a way that makes sense in the new space. We beautifully organize the items so that they can quickly be found.