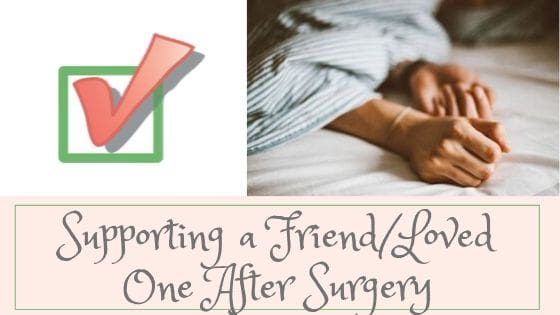 Your loved one needs to know how much you care. In addition to physically recovering from the surgery, people undergoing a mastectomy or lumpectomy will need to consider their emotional recovery in the weeks and months that follow the procedure. They can certainly expect to feel emotional, as some days will be better than others. They need to know that it is normal to feel grief, anger, sadness, and fear after this type of procedure. It is also common to feel happiness and relief as the recovery progresses.
Here's what your loved one needs most:
Rest
Quiet
Comfort
Dignity
Support
Hope
Healing
Companionship
A listening ear
Nourishing food
Peace of mind
Reassurance
Practical support
Aftercare assistance and resources may not be readily available to them if they don't have family close by or if their family has to go right back to work. The last thing they need to worry about is what is falling through the cracks on the home front while they are trying to recover.
After surgery, patients are vulnerable, they're in pain, they don't feel well and they don't want people to see them. They need TLC!  If they're single, or home without a support system…it can be scary. They may not have someone to check on their well-being – much less run out for a prescription or shop for groceries.
It is good to know that there are personal assistance companies like Consider It Done!  in the Triangle (Raleigh-Durham) area of North Carolina that can help patients who prefer to keep their surgery or procedures a private matter, or for patients who do not want to bother their busy family and friends for post- surgery assistance. One of the most loving things you could ever do is to gift them with a few hours of practical personal assistance, depending on the patient's needs and their doctor's advice. These compassionate and efficient concierge companies can manage many practical things such as:
Picking up/delivering meals, beverages and snacks
Dropping off and picking up prescriptions, ice packs, medications, etc. from the pharmacy
Picking up/ dropping off dry cleaning
Dropping off items at the post office/UPS/FedEx
Banking, paperwork management, opening & filing mail, bill paying
Store purchases/returns/gift shopping
Car services (car wash, oil change, gas fillup, etc.)
General errands such as shoe repair, jewelry repair, Costco runs
Grocery shopping, deliveries, light housekeeping, meal assistance, in home professional organizing
Taking pets to vet/groomer, walking, playing with and cleaning up after
Companionship, helping to write thank you cards and letters
Helping spouse and children with chores & homework
Maintaining weekly laundry, tidying, arranging house cleaners, helping with daily phone calls, scheduling appointments and many other miscellaneous errands.
If you are located in the Triangle (Raleigh-Durham) area of NC you can find personal assistance for yourself or a loved one.  Contact us using our contact form or call Sherri Durbin, Owner at 919-697-8874.  Gift certificates are available in all demoninations.
If you are not located in the Triangle (Raleigh-Durham) area of NC you can find a local personal assistance company by searching the ICLMNET (International Concierge and Lifestyle Management Network) directory at the link below.
https://www.iclmnet.com/The-Directory
A Personal story – after surgery
I recently had the pleasure of meeting the remarkable woman behind Redefined Courage, a Wake Forest, NC nonprofit organization.   Her name is Nikki Speers. She lost her loving, beautiful mama Ginny to breast cancer in 2015 and committed herself to making a difference in the lives of other beautiful women battling this disease. We have all known someone or have ourselves been personally affected by breast cancer. Redefined Courage was founded by Nikki Speers in loving memory of Virginia Jablanski to preserve her legacy and to build feelings of faith, hope, courage, and beauty for the women and families in our community and across the country battling breast cancer.
They gift specially made super soft post op shirts that are designed to help heal, comfort, and restore confidence in women who've had mastectomies. These shirts are gifted to women coming out of breast surgery across the United States for free. Their mission is to see every woman who has a breast surgery (survivor or previvor) go home from the hospital in hope.
I urge you to consider supporting this amazing charity. Here's how you can help:
Redefined Courage: Phone: 919-263-4396
Website: www.redefinedcourage.com
Email: redefinedcourage@gmail.com
Donation pages: https://www.redefinedcourage.com/donate
https://www.redefinedcourage.com/shop/hope-mastectomy-post-op-shirt