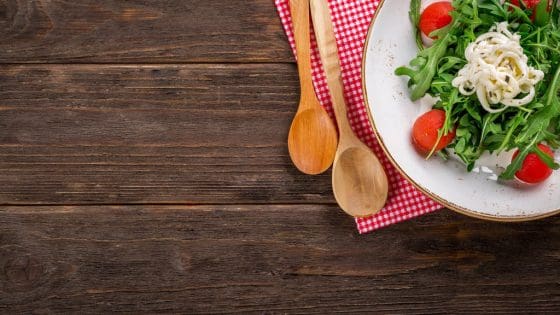 Everyone wants to eat healthy, everyone wants it to be easy, and everyone wants it to be affordable. So why is it so difficult to find that balance of feeding our families well but staying within budget?
A new trend in grocery retail that has been catching on is the emergence of "grocerants." Part grocery, part restaurant, they're just one more way to accommodate the growing number of Americans who cook at home less than they used to. Whole Foods and others have even started adding sit-down restaurants and craft beer on tap at their stores, hoping customers will pull up a chair and eat in their new food hall.
Supermarkets want to convince customers to visit them for lunch or dinner, and not just for a weekly grocery haul. And yes, there are some beautifully merchandised grocery stores out here in the Raleigh / Durham / Chapel Hill area.
However, my friend, you will pay dearly for that glamorous display and for that convenience, to the tune of 2-3 times the cost of preparing and eating meals at home.
So what is the real culprit here? Why are we so willing to seek convenience at such a high cost? Could it be the sheer lack of time we're all experiencing? Could it be the stress of adding healthy meal planning & prep to an already overstretched schedule? Are you trying a new cooking lifestyle like Gluten Free or Paleo and you have no idea what ingredients you need to buy?
We recognize that in many parts of the world such as Europe, people shop daily and are far more leisurely in their approach to meals and cooking. They take the time needed to cook, savor and ENJOY fresh food. But here in America, we drive through and gulp down fast food in the car, we consider a protein shake a good choice for breakfast, we grab ready made sandwiches to swallow down in 5 minutes at our desk, we end up giving our children chicken nuggets & happy meals, we eat out on weekends & weeknights because we're stressed out and mentally exhausted trying to figure out a weekly menu on top of actually preparing food.
One client was so thrilled with our meal preparation services she said….
"You guys should be called Excedrin, because you take my headaches away!"


Pam G. – Durham
She HATES trying to figure out & prepare meals, especially after a long day at work, but she still wants her family to eat well, to eat at home and to not always eat out. We have become her meal prep solution. And that's how we know we at Consider It Done! are on to something wonderful: Our services are making a noticeable difference in reducing stress in our client's lives.
Paleo, keto, gluten or dairy free? Not a problem! We will customize the meal planning and prep. services to meet the needs of your family.
Convenience seems to be the name of the game these days. Yes, we can all have our groceries delivered, but then what? Here's how Consider It Done! takes grocery shopping, money saving & meal planning a few steps further:
Hand-select your groceries
Research healthy recipes
Start dinner
Pack school lunches
Manage and replenish your shopping list
Help Customize your meal plans
Prepare crock-pot meals so all you have to do is start the crock pot
Restock your fridge when you come home from vacation.
AND Ultimately SAVE you $$$ by not making impulse purchases
(Mmmmmm, can't you just smell that aroma when you walk in the door?!)
Imagine the relief of having one less thing to think about when you get home. Imagine being able to eat the foods you love in your own home with your family and actually having time to reconnect and have a conversation. Those times are invaluable in building family bonds.
Oh, and did we mention that in addition to managing meal prep we're also happy to wash, fold & put away your laundry, take your pet to the vet or groomer, pick up/drop off your dry cleaning, shoe repairs & prescriptions, do store returns & Costco runs, organize those overstuffed closets, manage mail & file paperwork, get your car washed or oil changed, help you with preparing for out of town guests or an upcoming party, or manage whatever other tasks are falling through the cracks in your busy life.  Our goal is to help you reclaim your nights & weekends so you can enjoy family and fun. With 15 + years of hands on experience, we promise to manage things efficiently, with zero judgment, with integrity and within budget.
If you're an overextended professional in Raleigh, Durham, Chapel Hill or anywhere else in The Triangle area, would you like to give Consider It Done! Concierge Service the opportunity to help you achieve some work & life balance?  Schedule your no obligation, free, no judgment consultation today.  Time is so very precious. We urge you to spend yours doing the things you love.
Get Your Meals Made Just For You.
Check out our Wonderful Winter Package. It is our very best value:
Or